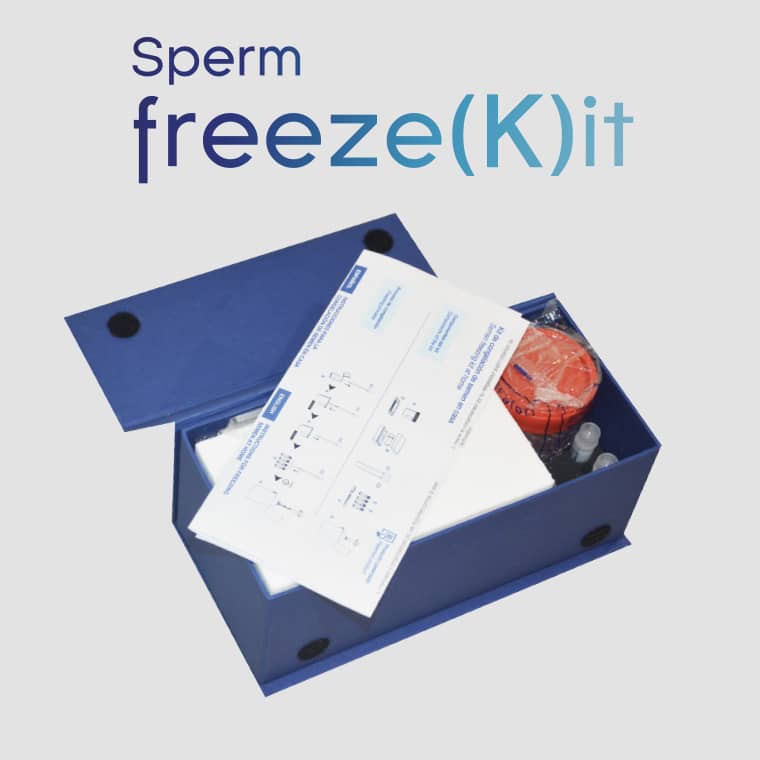 Sperm Freezekit: Auto-freezing of sperm
Newest technology for the patient to freeze his own sperm wherever he is.
For the first time, men undergoing through an Assisted Reproduction treatment can obtain their sperm sample at home and send it to the clinic safely and comfortably.
Thanks to Sperm Freezekit there is no longer any need to travel and, with medical visits by videoconference, it is now possible to perform almost the entire procedure "remotely".
On the other hand, this patient's own sperm freezing kit is also a new solution for those who wish to preserve their fertility before a vasectomy or cancer treatment, for example. Also for those who require studies of their sperm such as chromosome analysis (FISH).
How does it work?
The new kit is sent directly to the address indicated by the patient. On the day you choose, you will receive a nitrogen tank in which you will find everything you need to freeze your sperm sample, as well as the instructions with a detailed description of the steps to follow.
The procedure is very quick and simple. The patient has 48 hours to resend his sample once it has been frozen inside the tank. A courier will pick it up at the indicated address to deliver it to the clinic.
– Sperm auto-freezing service "Sperm Freezekit"
National shipment in Spain: 350€
– Sperm auto-freezing service "Sperm Freezekit"
International shipment from EU countries to Spain: 550€
– Transportation: shipment and return to EU countries. (In case there is any variation in the transport fees that would affect the total price of the service, this would be communicated in advance).
– Unthawing and first-year maintenance.
– Taxes
Other options you may need
Add them also to your budget and calculate the total cost.