Ovarian cancer is one of the 10 most deadly cancers of the reproductive system, according to the International Agency for Research on Cancer. It is also one of the most commonly diagnosed cancers of the reproductive system worldwide.
In the United States alone, it is estimated that in 2023 more than 19,000 new cases of ovarian cancer will be diagnosed. In Spain, meanwhile, the Spanish Society of Medical Oncology estimates that more than 3,000 new cases will be diagnosed in 2023.
When a woman is diagnosed with ovarian cancer, many questions arise about her present and her future. These questions range from the treatments available to cure it, to whether it is possible to become a mother after being diagnosed with ovarian cancer.
In this post, our experts in Assisted Reproduction will inform you about ovarian cancer: what symptoms are present, its types, the diagnosis process and how it impacts on future motherhood.
Detection and symptoms of ovarian cancer
The exact cause of ovarian cancer is currently unproven. However, research suggests that the likelihood of developing ovarian cancer increases with age and under certain conditions, for example:
– Mutation of the BRCA1 or BRCA2 gene
– Not having become pregnant previously
– Being over 45 years old
– Having previously had breast, colon or uterine cancer
– Having a family history of ovarian, breast or colon cancer
– Having endometriosis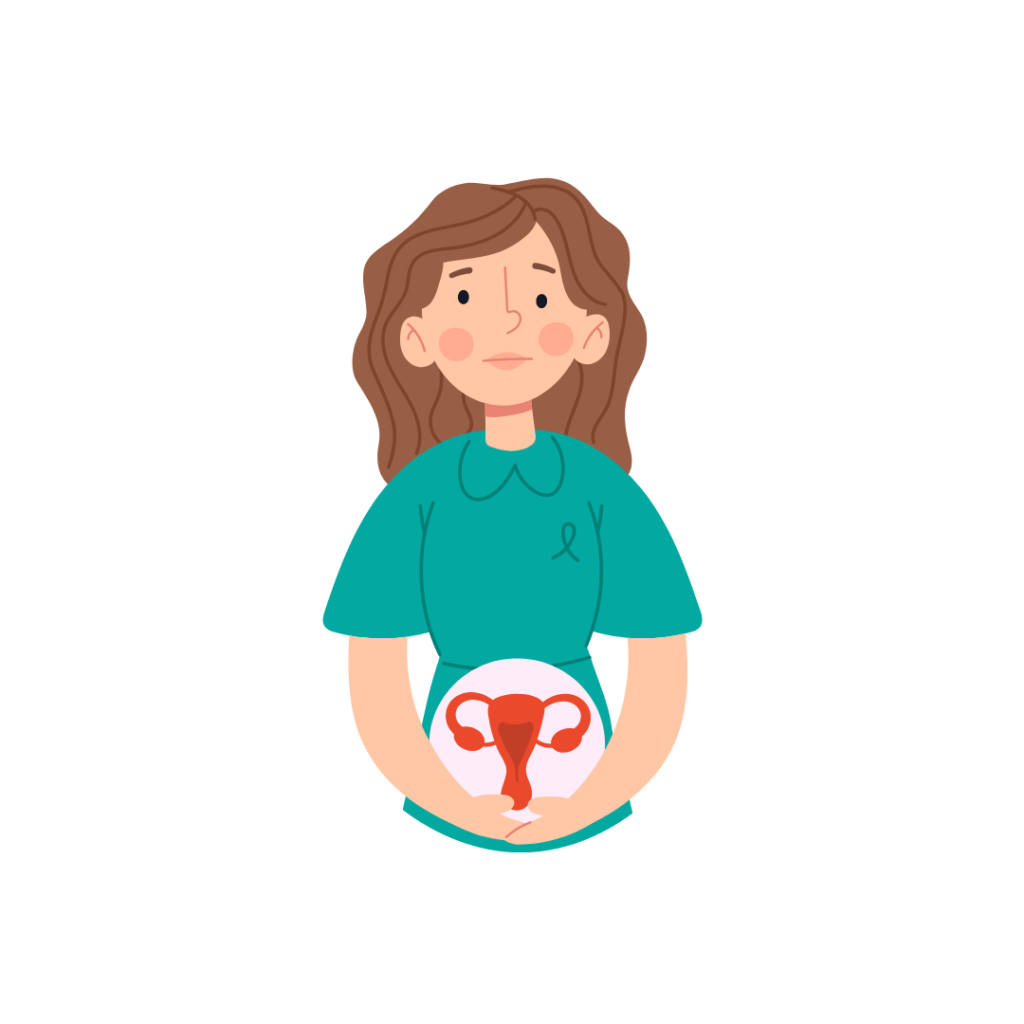 Some of the most common symptoms you may experience are a feeling of indigestion, urination, abdominal pain, pelvic pain, bloating, among others.
The detection of ovarian cancer will vary depending on the type of cancer and the stage of the cancer.
The most common diagnostic tests to diagnose ovarian cancer are:
– Pelvic examination
– Transvaginal ultrasound or CT scans of the abdomen and pelvis.
– Cervico-vaginal cytology
– Blood test for tumour markers
– Biopsy of ovarian tissue sample
– Chest X-ray
– Blood test for possible gene changes
Your first Assisted Reproduction visit free of charge
There are various types of ovarian cancers that can be categorised, graded and subdivided into further typologies.
The specific diagnosis of the type of cancer will be made by the medical specialist in a pathological anatomy by analysing the tumour sample. In this same analysis, the doctor will determine the stage of the disease, i.e. how widespread it is and, depending on this, the prognosis will be determined and whether it is possible to be cured.
Below, we will explain the three most common ovarian cancers in women.
It is one of the most common types of ovarian cancer and occurs mostly in women over the age of 50. Approximately 80% of malignant ovarian cancers are epithelial ovarian carcinomas.
These tumours originate from cells on the outer surface of the ovary and can be benign, of low malignant potential (borderline) or malignant.
Depending on the ovarian cell in which they originate, they can be subdivided into four main subtypes:
– Serous: these are the most commonly diagnosed and can be of varying degrees.
– Mucinous: these produce mucus in the peritoneal cavity and are generally diagnosed in the early stages.
– Endometrioid: those with a dark, solid appearance.
– Clear cells: when analysed, the cells that make them up are clear.
This type of tumour is not so common, in fact, less than 2% of ovarian cancer diagnoses are of the germ cell type. It develops from reproductive egg cells in the ovaries and occurs mostly in women in their 20s and 30s.
Globally, most of these tumours are benign, i.e. they do not present a risk to the life of the patient. However, there are some cases in which they are cancerous.
3- Tumores de células estromales
Stromal cell tumours form in the tissues that support the ovaries and account for a very small percentage of all cancer diagnoses.
Tratamientos para el cáncer de ovario
Once the type of cancer and its stage have been identified, the most appropriate type of treatment for the patient can be determined.
The most common treatments for ovarian cancer include:
This is the surgical removal of the tumour. In most cases it is accompanied by chemotherapy treatment. Depending on the age of the patient and the stage of the cancer, conservative and cytoreductive surgery may be chosen. Conservative surgery is highly recommended for women who wish to have children and who are at a very early stage of cancer. If conservative surgery is chosen, only the ovary where the tumour is located is removed.
Chemotherapy is also one of the most commonly used treatments for ovarian cancers because it is usually a complement to surgery to remove the remnants of the tumour that remain in the patient's body.
The recommendation for chemotherapy will come after a biopsy and there are two types of chemotherapy: neoadjuvant or dose-dense.
Generally, in neoadjuvant chemotherapy, drugs are administered every 3 weeks and for 3 or 4 cycles, depending on the patient. In dose-dense chemotherapy, drugs are administered weekly.
If chemotherapy has been recommended and you wish to have children, it is important that you tell your doctor. Some women after chemotherapy cycles have no difficulty getting pregnant, but there are patients in whom chemotherapy causes fertility problems or ovarian failure.
It is mostly recommended to treat stromal tumours and drugs that block or reduce hormone levels are indicated to prevent tumour growth.
Motherhood after ovarian cancer
One of the main doubts women have after being diagnosed with ovarian cancer is whether they will be able to become mothers. The definitive answer will depend on the diagnosis and treatment recommended by the specialists.
It is very important that, as soon as the patient receives the diagnosis, she is informed of the options available to her before starting treatment.
Earlier, we mentioned that ovarian surgery is one of the most common ways to remove the tumour. In cases where only one ovary is removed and the uterus is left intact, the patient has the possibility of becoming pregnant naturally.
Thanks to medical advances, Assisted Reproduction is a good alternative to turn to, as it allows you to become a mother with techniques such as egg freezing or by using donor eggs. In some cases, if the oocyte quality has not been damaged by chemotherapy, it is also possible to resort to IVF with own eggs, although this option tends to be rarer.
Egg vitrification or egg freezing is the most common alternative that patients turn to before starting treatment for ovarian cancer, as it allows them to postpone childbearing without the risk of damaging their eggs.
In this procedure, the patient undergoes ovarian stimulation and then the best quality eggs are extracted and frozen. Thanks to this technique, the patient can maintain her chances of becoming a mother with her own eggs.
Egg donation and frozen embryo transfer
If, due to the complexity and stage of the cancer, the woman cannot keep her ovaries, Assisted Reproduction offers the possibility of egg donation (or oocyte donation).
This technique consists of implanting eggs donated by an anonymous donor in the patient's uterus. At IVFforYOU we carry out a prior gynaecological analysis, where we analyse the medical history of the donor and the patient, in order to ensure correct compatibility.
Frequently asked questions about ovarian cancer and motherhood
Yes, before starting your cancer treatment, it is important that you see a doctor specialised in Assisted Reproduction to guide you through the options available to you. Generally, it is possible to use egg vitrification to use them after your treatment or egg donation.
It will depend on which ovarian cancer treatment is recommended for you. There is a greater chance of affecting fertility if we subject the body to dose-dense chemotherapy, i.e. where more of the body is exposed to the drugs.
There is no specific time frame, as it will depend on the treatment given. However, it is recommended to wait longer than six months if you have had surgery where the tumour has been removed.
If you need to contact an Assisted Reproduction centre, we invite you to write to us, the first visit is free!